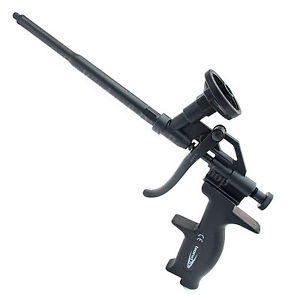 HEAVY DUTY PROFESIONAL FOAM GUN EACH
Stock Code: 0500010159AA
Quantity Ordered
Price Each
1 - 2

£15.10

(exc VAT)
3 or more
£

13.95

(exc VAT)
A professional gun for delivering polyurethane foam. Made entirely of metal, it is robust and easy to handle with its ergonomic hand-grip made of anti-solvent nylon. Body, adaptor, non-returnable valve and nozzle are teflon coated to prevent foam from sticking to the gun and facilitate cleaning. Exceptionally hard wearing gun parts – this is a gun for life!!
APPLICATION:
– PTFE ball valve
– Variable extrusion rate
– CE safety classification
There are no downloads for this product.