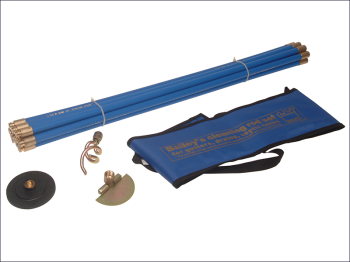 BAILEY UNIVERSAL DRAIN ROD SET 3 tools brass fittings BAI5431
Stock Code: 1700036670C
For professional people who require their tools to be at hand on a regular basis, this purpose designed set comes complete with a heavy-duty blue waterproof Bailey carry bag and supplied with adjustable shoulder straps. The compact nature of this set allows them to be easily stored in the works, shed, garage or van.
This Universal Drain Rod set includes 30 feet of the Bailey Blue Rods® with brass fittings.
The quality, reliability and strength of this equipment ensures that the toughest jobs can be tackled - an essential product for the builder, plumber, chimney sweep or handyman.
The Bailey BAI5431 Universal Drain Rod Set includes 3 popular tools with the following contents:
10 x 3ft x 3/4 inch Blue Rods
1 x 4 inch plunger
1 x 4 inch drop scraper
1 x double worm screw
There are no downloads for this product.